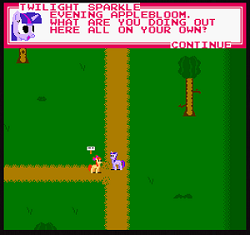 This article is about a My Little Pony game. You may commence screaming in terror at any time. Once you're done, though, please return. I'll wait for you. That's what friendship is all about, after all: understanding our differences, such as what makes one scream uncontrollably, and respecting those differences.



You done? Alright, I'm glad we could work through this.
A common theme among fans of My Little Pony: Friendship is Magic is the concept of grimdark. It's honestly a really silly idea where they take the sugary sweet show and write the most messed up things imaginable based on it. It all started with a fanfic called "Cupcakes" and it all kind of spiraled out of control from there. Like most fan things, it's very silly, and most of it doesn't actually fit the characters at all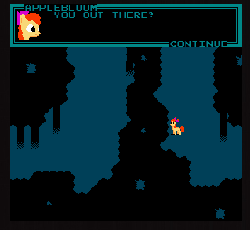 because, you know, they're from a children's TV show. Story of the Blanks does not do that at all. The characters from the show fit their molds. It's everything else that doesn't.
At this point, if you're still with me, I'd like to ask you to play the game. It'll take you maybe 5 minutes. It's not very long. Before you go, though, if you haven't seen the show, you need to know one concept before anything in the game will make sense. Those pictures on the rears of My Little Pony toys have the horrible name "Cutie Marks," and when a pony discovers their special talent, that mark appears. It's sort of pink pony puberty. Alright, give the game a shot by clicking here.




See what I mean? It stays true to the characters. It's pretty neat. But let's look a little deeper, shall we?
Sunny Town is a place without Cutie Marks, a place where nobody has discovered the one thing they're good at. It is a hell, or quickly turns into a hell, because nobody can ever chase their dreams in this place, otherwise they wouldn't be here. Consider it a twisted version of Neverland, where never growing up means never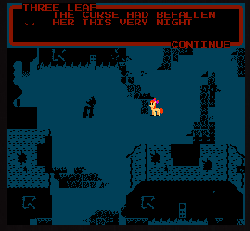 actually finding something that you love, enjoy doing, and are good at.
This place truly is Applebloom's hell. She, and the rest of the Cutie Mark Crusaders, are trying desperately to earn their Cutie Marks by finding their special talent, since they are among the very few in their class who have not yet gone through that process. The fact that Applebloom is willing to mess with dangerous magical potions she knows little about just to speed up the process in the season two episode Cutie Pox proves how desperate she is to get this whole thing over with. In her child in a kid show mind, there's very little that could be seen as worse than this.
However, it also represents another kind of hell for her. In her desperation and embarrassment over not having a cutie mark, she, of course, formed the Cutie Mark Crusaders with Sweetie Bell and Scootaloo. This is her lifeline and her defense against potential ridicule from her peers. Rarely, if ever, do we see her interacting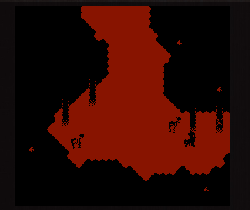 with friends outside of this peer group, formed solely on the fact that they lack Cutie Marks. But if one of them gets their Cutie Mark, what happens? Sunny Town represents the fear that, when one of them achieves the goal they're all working towards, they will no longer be part of the group. They'll be an other. If Applebloom does get her Cutie Mark, would her friends shun her based on that? It's not murder, of course, but it's basically about the worst possible outcome in any My Little Pony tale, due to its kid show status. The ponies in Sunny Town talk about how they had to get rid of her, had to cast her out, how she'd ruin everything now that she had the mark. They went too far in the name of horror, but what they've basically done is shunned one of their own for no longer being like them. This is what terrifies Applebloom, more than murder or skeletons that get brushed away like they never existed by the light of a spell. Acceptance is one of her main motivators, and losing what acceptance she has is a terrifying thought for her.
Now you've thought way more about a My Little Pony game than you ever thought possible. My work here is done. Tune in next year, where I will write about My Little Pony: Pinkie Pie's Party for the Nintendo DS. (Note: I will not be doing that.) Happy Nightmare Night, everypony.
Information
Released: July 1st, 2011
System: PC
Publisher: Newgrounds