Though I can't really take real horror, and often look away from the screen, as far as games go, there have been very few that have given me real nightmares. I recall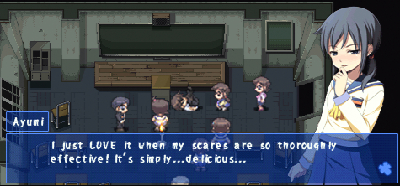 having a horrible nightmare after the first time I played Monster Party when I was little. I recall a huge group of grotesque monsters, a party of monsters, if you will, chasing me through a pool of blood not unlike the level introduction screen in that game. It repeated for a few days, and I never really got any sleep that week. I also remember having a serious nightmare after playing Silent Hill: Shattered Memories, but the nightmare was very much focused on the very creepy psychologist in that game. Seeing as I was, at the time, attempting to find a psychologist and was very nervous about it, that probably had something to do with the dream.
Corpse Party for PSP is also on that list. I played through the first Chapter in one sitting, and then went straight to bed. I had terrible dreams involving the gruesome kills in that first chapter. Needless to say, my play sessions were not nearly as long and not in any way before bed after that point.
Corpse Party was created by a group of Japanese Horror Game fans going by the name of Team GrisGris, messing about in RPG Maker of all things. The game was so popular, they eventually retooled it for a more professional Windows release, and then a PSP release on UMD. Since hitting the PSP, it's had a sequel game, a side story game, an iOS port, an anime adaptation, and several manga created for it. Basically, what I'm saying is that it took off pretty seriously. All we've gotten in America, though, is a translation of the original PSP game into English by XSeed, which they wisely decided to release only as a digital download due to a limited audience. I can't remember seeing very much hype or coverage of the game when it came out. I only really heard about it through friends playing it, and decided to give it a try when a friend offered to buy it for me for a Christmas present. I'm glad I did. Corpse Party is a wonderful game, although more horrific than I bargained for.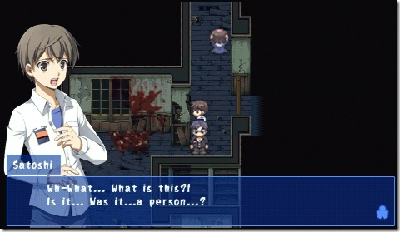 The game is really set up to put you totally off-guard. Its RPG Maker roots are front and center as you play; it looks like an SNES era RPG, and it's very abstracted as you move around the map. Dialog at the beginning of the game is so anime, it's fairly painful. Tropes of every bad anime you've ever seen are in full force, and characters do things like discuss boys while in the middle of a supposed hellish landscape. I felt like I knew exactly where everything was going near the beginning. I'd seen enough anime to know that nobody was in danger, and the real focus was going to be on character interaction instead of scares, which was plenty fine with me.
All that stuff is really kind of a ruse, though. The game is brutal, extremely so, and it's made me extremely uncomfortable many, many times. While there are some characters who have plot armor, many others that you would normally peg to have it do not, and it's more than enough to make you worried about every character.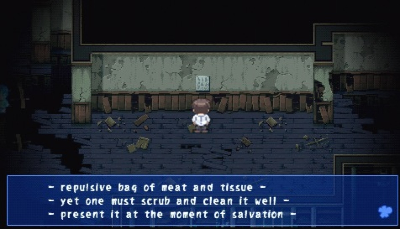 The kills are very disturbing. For example, let's consider a game over state I hit while playing. I was, at the time, controlling Yuka. According to the canon, she's 14, but she's portrayed as much younger than that, and she's younger than most of the cast, for sure. I messed up, and Yuka got caught by a ghost wielding a bloody pair of sewing scissors, which were very quickly jammed into her eye. None of this is portrayed on screen. Most of the horrific things that happen occur with a black background and just text describing it with sound effects. The text scrolled by, giving me an obscene amount of detail about the scissors scraping the inside of her skull, and her trying to pull it out, but only to have that hurt more. I'm hearing horrible squishes from her eyeball, the ghost giggling with delight, and very genuine screams of pain while I read. This scene, as she bleeds out on the floor, goes on for a long, long time. What's worse, the way the haunted school they're in works, this pain that's being described is a pain she is going to feel literally for all eternity, over and over. I had to take a little break before I tried escaping the ghost again.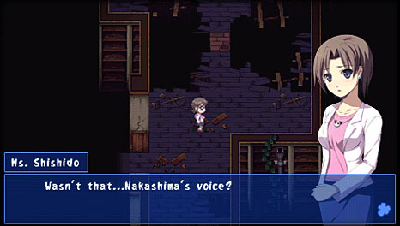 It's the writing and sound effects that power this game. The writing is, for the most part, excellent, and the Japanese voice actors (there are no English voices in the American version) do an incredible job of portraying real fear through their performances in a way that really affected me. Every time I felt like surely I had finally figured out what the game was doing and it wasn't going to surprise me anymore, I was surprised by its brutality and its willingness to do what it needs to in order to make me feel every character is in danger. The only weak part, really, is the gameplay itself, which involves twitch reaction sequences in a game that is not in any way programmed to handle them, and which involves a lot of aimless searching for the next plot trigger at a lot of points. The atmosphere and story, though, totally and completely make up for that, in my opinion. I can't think of a game that has ever freaked me out more than Corpse Party. To me, that's a mark of quality.
Information
Released: November 22nd, 2011
System:

PSP

Publisher: XSeed Games