Jonathon Howard, our resident PC fan, gardener, and policy wonk takes on a classic in his latest entry.
(trigger warning for our sensitive readers)
I can remember wanting Roberta Williams' Phantasmagoria. Wanting it very badly. One of the many, many Sierra On-line games my brother and I had purchased came with a quicktime preview of the game on its CD. For a naive and sheltered fourteen year old Mormon the game seemed to promise all that my life and upbringing had forbidden me. I watched that little video over and over but I never bothered to mention the game to my parent's. They were never going to approve a purchase of the game. It wasn't that the game was violent and I don't know if they ever would have found out about the rape scene (I wasn't going to tell them!)but the fact that the game centered around demonic possession and had filmed depictions of grisly deaths meant that the game wouldn't even get a fair trial.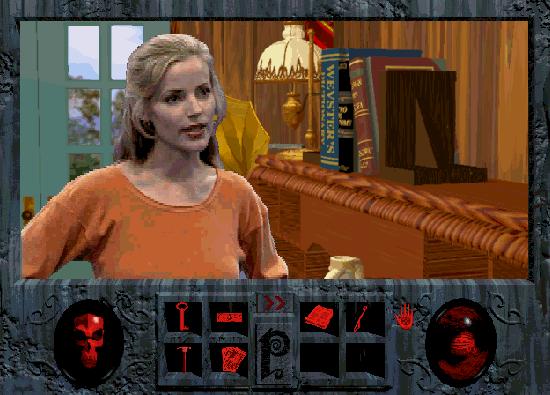 Phantasmagoria is an interactive movie that sprawls across seven CD and tells the story of a young couple, Adrienne Delaney and Donald Gordon, who have recently moved into an old, rural mansion (can you see where this is going?) built in the 19th century by a famous magician (do I really need to go on?) who just so happened to be into black magic and demon summoning! You were not expecting that were you? Needless to saw the demon summoning did a number on the old magician, his name was Zoltan Carnovasch, who got himself possessed and then went on to kill his five wives!? I know completely out of left field, right? Anyway, Adrienne steps in it big time and releases a demon who possess Donald and things go down hill for the couple from there!
This story is delivered to the player through a beautiful interface that takes up over half of the screen. The other half where you manipulate the world and move your character is populated by ugly CGI environments and low resolution FMV captured characters. The videos where much of the narrative of the game is delivered in low resolution FMV in an even tinier 3" by 6" window with excessive scanlining. I can't imagine what my young self saw in these images. I have a hard time even discerning what it is the game is trying to show me! So despite containing graphic, almost indulgent, scenes of violence against women and a scene where Adrienne is assaulted and raped by her husband the "horror" is mitigated by the limitations of the game's engine.
Outside of the then "cutting edge" multimedia presentation (seven CDs?!) the gameplay is standard adventure game fare. The puzzles in Phantasmagoria are somewhat easier and less opaque than Sierra and Lucasarts veterans were used to. This doesn't mean they weren't opaque or awful. Just that they were less so for the time… I think this has to do with the game's presentation and the companies effort to grow the base. The limits of the FMV and early CGI made detailed environments impossible and the game was marketed less as an adventure game and more as a piece of serious cinema. Another innovation was the elimination of game saves. Instead Phantasmagoria employs a fast forward/rewind scheme, when you die you simple rewind to right before the action that killed you or fast forward to the next chapter skipping over puzzles that have you stuck. The game also integrated a hint system that the player can use on when stuck. The system can direct the player through the games narrative and provide solutions to puzzles.
Phantasmagoria was, and perhaps only, attempt by Roberta Williams to bring out of the family friendly fantasy adventure genre she is known for. The game, Sierra On-line, and I can only assume Roberta desperately wanted the game to be taken as a serious piece of adult drama. It's failure to live up to this goal really is spectacular. The game, from its characters to special effects, is more reminiscent to, and reminds me most of, bad B horror or slasher films rather than Gothic literature or even standard genre horror it appears to aspire to.
The game received a sequel in 1996 though it was not designed by Roberta Williams and the story is unrelated to the original. The game can now be purchased at GOG.com.
Information
Released: July 31, 1995
System: PC/Saturn
Developer: Sierra On-Line/Kronos Digital Entertainment
Publisher: Sierra On-Line