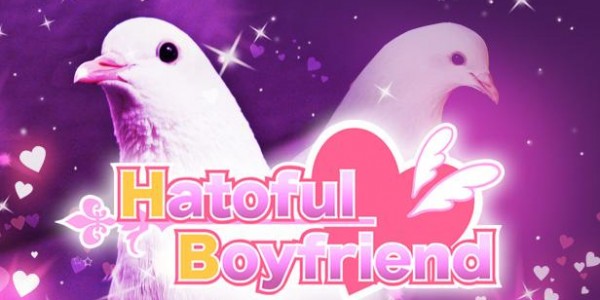 Hello, everybirdie! I know you're super excited to hear me ramble about the bird smooching game, but I feel it important to note that I am literally going to spoil everything that happens at St. PigeoNation's. Hatoful Boyfriend is a ridiculous idea for a game, but it is legitimately heartfelt and a wonderful experience to play, even if you're not a dating sim kinda person. Well, I think so, anyway. If you haven't played it, I highly suggest it! But if you don't care, at least you've been warned.



Seriously, if you're looking for horror, Hatoful Boyfriend has those sorts of themes in spades. Ghosts? You got it. Serial killers? Sure. Post-apocalypses? Totally. Horrific Elder Gods? You better believe it. Undead abominations? Check. Demon attacks? For sure. Spies? Well, okay, that's probably not horror, but they threw that one in there for free. All this is in one game about smooching birds.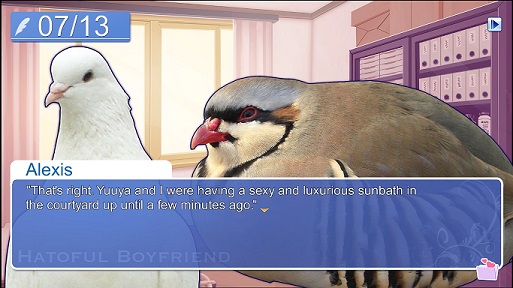 Basically every route in the game feels ridiculous and fairly disconnected to everything else. How can all these things exist? Surely, a player thinks, these are all jokes, like the game's very premise. If not jokes, then they're at least little heartfelt stories that happen inside their own bubble. You play through them, you laugh a lot, and if you're like me, you cry a few times (Nageki… Ryouta…), but ultimately, you're just seeing what crazy branch universes you can go into and what will happen in them. Every character fits a dating sim stereotype in some way, and those tropes become subverted as you go through their paths for the vast majority of them. It's a fun ride.
And then you start the game up again, and it asks you if you'd like to fulfill the promise you made a long time ago, and Bad Boys Love begins.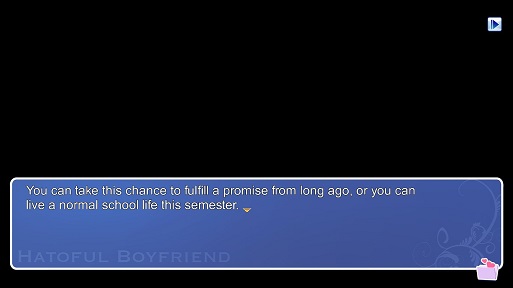 The game is kind of a fun, fluffy, treat until Bad Boys Love. It's an inconsequential joke of a game. But Bad Boys Love suddenly turns the entire experience around. It's a "secret ending," one you can only get after you've completed a majority of the other endings. Part of me feels like that's a shame; Bad Boys Love is what the game truly is. But the whole scenario wouldn't work without making the player make connections with all the birds beforehand, and understand that, perhaps, they're a little deeper than the satirical premise and dating game stereotypes would let on. Bad Boys Love pays off on your investment in a wonderful way.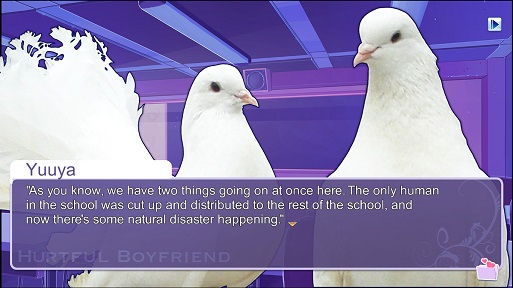 Bad Boys Love is a horror story, completely serious in every way, and it establishes that right off the bat. The route starts by seeming very normal, besides a few dream sequences that seem to have no real effect, before it kills off the player character. It's especially disturbing if you do what I do, and always name dating sim protagonists after yourself. You yourself die. That happens in a couple other routes, but it's a game over. The game ends. Bad Boys Love starts with your death, and then shifts to the perspectives of the various birds you've dated throughout your many playthroughs. And if the player character, the character that drives forward literally all interaction and plot in a dating sim, can die, it's very clear that everyone is at risk. And because you've spent a lot of time with these characters, that means something.
The whole horrible story also just goes to put the perfect finishing touches on what Hatoful Boyfriend is all about. The game is, ultimately, about culture, integration, and understanding. The player character is, of course, a hunter-gatherer. The game constantly points out how different she is. She's a human, not a bird. She has a different cultural background. She tries to participate with the other birds, but for many things, such as wing exercises in P.E., she can't. But she wants to. "Maybe someday I'll be able to fly, too!" she hopefully says as everyone else works out their wings. It's taken her awhile, her whole freshman year, by the game's calling, to get used to this new culture she found herself in. But she wants to live it. She wants to fit in, and get along, while still being herself. The game others her, as it's othering you, the player, by asking you to have romantic feelings for birds. But if you give in, the player character, and you, find something lovely there.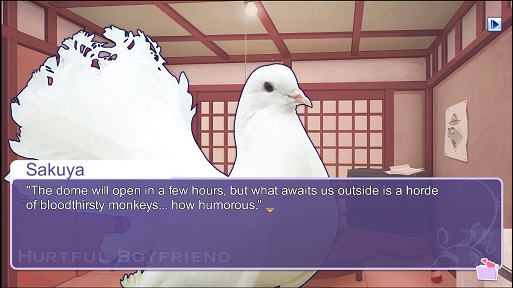 And then, in Bad Boys Love, the game attempts to rip that lovely thing away from you, and hurt you for that other status. It's not hard to see parallels between the Hawk and Dove parties and so many terrible, intolerant groups in history, and those who fought against them. In a dating sim about birds, there's a clear attempt to connect to those same feelings that drive sexism, racism, homophobia, and so many other things that threaten our world. You see so many angles in that conflict. Shuu, who is just trying to fulfil a promise to a man he loved, and couldn't care less whether humans lived or died. Nanaki, who is just using this conflict as an excuse to get revenge. Ryouta, who finds himself accidentally lifted up as the champion of a cause he does not want to support, but feels helpless to resist because of who he's surrounded by. Nageki, who saw what was happening, and killed himself to escape it. These are not unfamiliar characters and stories in any sort of struggle of this type. Sure, this particular version of that struggle involves ghosts and a ridiculous, sci-fi virus, but it's core is there.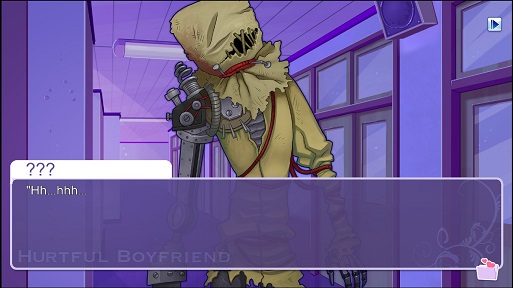 There's no symbol that represents this greater than Labor 9, the terrifying scarecrow robot powered by the remains of the player character. The player character, as a representative of humanity, is literally transformed into the figurative terror that the Hawk party says humanity is. You become the representative of danger, and the very reason that you should not exist. Who hasn't seen people twisted in their representation to meet what terror we're supposed to see? Haven't we as a society, again and again, put forward people as monsters, and treated them as such, when they were just people, only with a different skin, or different background? Even Anghel's special ability, though used for good, only reinforces this idea. Play along, follow along with a monster narrative, and everything will be easier. Vilify, and society will follow with you.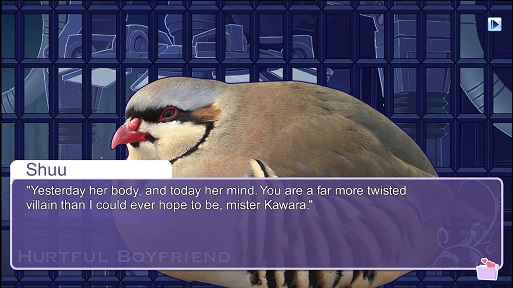 The ending of Bad Boys Love is bittersweet. Ryouta has locked himself in a vault, likely to die, along with the player character's brain. And he talks to it, and tells it how much he cares. There's time now, he says. But nothing is truly resolved. A war is still likely to begin. The bonus scene you get by getting all the endings paints a slightly more hopeful picture, but not by a lot. The hate caused by othering is still going to be the end of what could have been beautiful. You saw that beauty, but now it's lost.
Perhaps that's a bit too intense of a reading of Hatoful Boyfriend. But it's these things that wrecked my night with emotions and sadness when I got through Bad Boys Love. And this is even with me having read a Let's Play before, and thus knowing literally everything that happens in it. I knew it, but it was so real, and so emotional, that it affected me. It's there, deep inside a game about smooching birds. And like so many other stories, the true horror is, of course, how we treat each other in this world, and what we are capable of.
That's why Hatoful Boyfriend is a horror game.
Information
Released: February 15, 2012 (Original), September 4, 2014 (HD Version)
System: PC
Developer/Publisher: PigeoNation Inc./MIST[PSI]PRESS (Original), Meditatonic/Devolver Digital (HD Version)