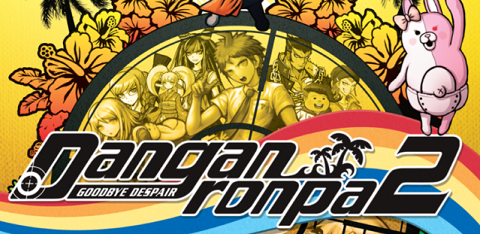 The first time I maxed my relationship with a character in DanganRonpa 2: Goodbye Despair, she gave me her panties. I felt kind of weird about this until I maxed a relationship with a guy, and he gave me his boxers. Then I went, "Oh."
The thing is, these relationships are not particularly romantic in nature. You're getting to know people, learning more about them, maybe building friendships. But that's it. It's not a romance. Yet it uses these tried and true dating sim mechanics of giving presents, saying the right things, and so on to set up these relationships. Then it gives you their underwear at the end, because that's supposed to be the reward, right? It's totally playing on the tropes of the dating sim, and poking fun at them, while, at the same time, giving you the same sort of enjoyment you get out of those sorts of games.
Literally everything in DanganRonpa 2 works like this. You level up and equip skills that essentially do nothing, but they're kind of fun to acquire anyway. There's a whole virtual pet system that's really strange you can mess around with that basically does nothing, but it's kind of fun. You can collect a wide variety of inventory objects to use as gifts or just collect. They basically do nothing, but the descriptions are funny, so it's fun to collect them anyway. You get rewards for doing well in the Class Trials, but the rewards are just coins to buy the basically useless items. But hey, it's fun to get an S rank.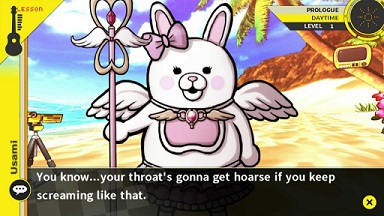 Many of these ideas existed in the first DanganRonpa, but they're brought to the forefront and really made explicit in the sequel. Even many of the minigames during the trials, other than Nonstop Debate, are given extra-gamey gimmicks, even though they still essentially just keep you from continuing the story and aren't particularly important. This concept of gamey-ness is infused in every single bit of the story. You even go to different themed "levels" that unlock as you work through the game. Is it really that much of a surprise that the game's twist is that it is truly, actually a game of sorts, a complex computer simulation?
Yes and no. If you think about it, you can see it coming a mile away. But just like the last game, the characters and the story are so engaging, so brutal, and so real with its emotions that you gloss over the hints. How is all this food just magically appearing out of thin air every day? Who cares, there are more important mysteries about these characters to be discovered. There are other things to work on.
These game elements are one major example of how DanganRonpa 2 constantly plays with your expectations. You expect all these game things to be important, and they're basically not. You expect a game about horrific murder, and the game starts out by telling you you're trapped until everyone becomes best friends instead of drawing blood. You see the new cast of students, and they almost seem like someone twisted one of those toys where you have heads, torsos, and legs of many monsters and just made new combinations of the same parts. It's easy when starting the game to match characters up with characters from the previous game, and for every reason that comparison works, the game eventually gives you four or five reasons why it doesn't. Even the main character, Hajime, is this kind of expectation twist. Makoto, the character you are in the first game, is mostly defined by being "normal." Hajime starts like that, but you eventually learn that, no, he's the Ultimate Ultimate. He's literally good at EVERYTHING. Even in the last bits of the game, you're still getting realizations like this that stomp on your expectations of what a DanganRonpa game is.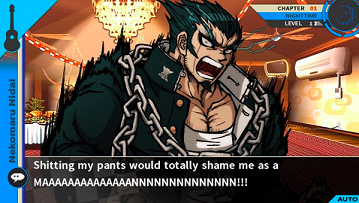 What this all adds up to is that the game is incredibly playful. It's constantly making you laugh, or scratch your head with how silly or strange it is. And it does this purely to enhance the moments where it becomes deadly serious, almost suddenly and without warning. Like I talked about with the first game, you love these ridiculous people. And then they're dead, and gone, and that has real consequences on the story, and on you. There's a gap. And I don't think that gap would be nearly as painful if the game wasn't basically teasing and laughing at you about the fact that it has impact. It'll take a character away, and then you'll get an item and be subjected to a ridiculous joke about that character, and it kind of stings. It's a representation of what could have been. And it wouldn't really invoke an emotion if it wasn't so lighthearted in its presentation. It's not dripping with drama. It's finding a picture of you and a lost friend, having fun, and feeling the lack of them. It has way more impact that way.
There are quite a lot of reasons I love DanganRonpa as a series, but this playfulness, this constant ribbing, this "pointless thing, but that's what you wanted, isn't it?" really makes the emotional turns more powerful. It makes you really like the game before it stabs you in the back. It's a difficult thing to pull off without feeling like you're being manipulated. But while obviously that's the goal, I never feel like it has cheap punches. It backs all this up with excellent writing. It's both a joy and an emotional quagmire to experience, and I love it for that.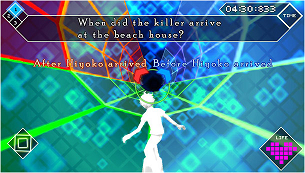 Information
Released: September 2, 2014
System: Vita
Developer: Spike Chunsoft
Publisher: Spike Chunsoft/NIS America

Alexis Long writes cool cool stories that you should read! Check out her stuff at poetfox.com!