In the first Danganronpa, before every Class Trial, there is a "Trial Prep" screen with a little scrolling bar at the bottom that sort of spews random thoughts about the case and what's at stake and so on. In one case, that scrolling text asks if you're enough of an "Ace Attorney" to deal with this situation. As if it's not clear enough, it calls straight up what the game is built off of. It's an Ace Attorney game, but with it's own style.
Ultra Despair Girls is a Resident Evil game, but with its own style. A lot of that style is garbage, honestly. The shooting isn't great, and it's unclear if that's just a Vita problem or a game problem, but it's hard to make super accurate shots. You level up, but that doesn't really do anything in particular, as the levels don't do anything unless you have skills to equip, and it only gives you those when it wants you to have them. You can customize your different weapons to an extent, but I never really saw a huge difference when messing with them. The one thing I always wanted more of was power, and it never really seemed like that changed significantly.
But you're shooting with a megaphone that you shout commands into to make robots fall apart. Most of the skills have sarcastic names like "Highly Anticipated Body." You customize your weapons by adding adverbs onto the things you yell, changing your Break attack to something like "Adorably Overwhelmingly Break!" Every bit of the game is just bursting with the same style as the previous games, even as it doesn't work as well, because it's an action game.
There's no way you should miss the game, though, if you've played the previous games. The amount of fan service is overwhelming, but honestly, one of the best things the game does is take Toko, who I personally never really got to "like," as much as "tolerate and accept as comic relief" in the first game, and changes her into a true character worth loving. She's still pretty awful to everyone around her, and a sort of bad horror stereotype, but she becomes such a great character.
The main way this happens is just through one of the collectables in the game: random novels strewn about the landscape. Toko is the Ultimate Writer, so she has a lot to say about the quality of the literature that you find, and most of it is funny and relatable. She'll talk about how awful a certain genre is, or certain types of books are, while also being undoubtedly drawn to them (though she denies it when Komaru calls her on it, of course). Toko claims she is "Liberal Arts to the Core" and that actually comes across as part of her personality.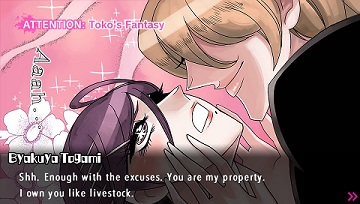 You can also see where Toko has clear connections to her other side, Genocide Jack, the Ultimate Serial Killer. There's a novel you find in the game that prompts Toko to straight up talk about Dissociative Identity Disorder, and while I'm not about to say she's the most accurate or well done portrayal of that particular condition, it was really humanizing to hear her specifically talk about how bullshit most portrayals of such things are in media. That's something someone who actually had something like that would do. It made her less of a caricature. Similarly, for better or worse, being able to play as Genocide Jack makes you understand her as well. As I said, the game doesn't control super well, but at the hit of a button, you swap to Genocide Jack, and you're invincible, and all powerful, and things in your way just disappear while she laughs and laughs and talks about how she just loves doing this to pretty boys, and you kind of get the appeal, and why someone would turn to something like killing when life was going badly, because all your problems just disappear with a snip of her scissors. With more time with Toko, you see that with her as well, her constant frustration at problems, and that desperation to remove them. You get to see Toko's S and M fantasies about Byakuya at the end of every chapter. You see where Genocide Jack might come from.
Along those same lines, you also get to understand a lot more about how The Worst, Most Tragic Event in Human History came from, as well. Seeing the Warriors of Hope work, you come to understand how everything could fall apart like this. It's less the reasons given for having enough resources for despair on the level the games claim happened, but more how these leaders were manipulated and convinced by the Ultimate Despair. It makes a kind of sense, where it didn't, so much, without any real context of the outside.
That's really all this game does: provide context. You get context for lots of things just hinted at, from character building to world building. I'm not sure if a lot of it was really necessary. I didn't need to know a lot of these specific world-building tidbits. It's more fun not to know some of that stuff. But like the previous games, the plot and characters really kept me glued to it. It might have been a real pain in the ass to try to line up shots in the eye on these robots, but I had a great time seeing what else could be told in the world of DanganRonpa regardless.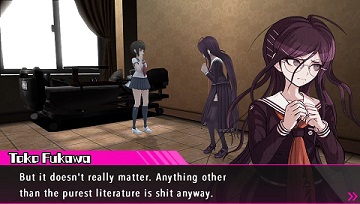 Information
Released: September 1, 2015
System: Vita
Developer: Spike Chunsoft
Publisher: Spike Chunsoft/NIS America

Alexis Long writes cool cool stories that you should read! Check out her stuff at poetfox.com!