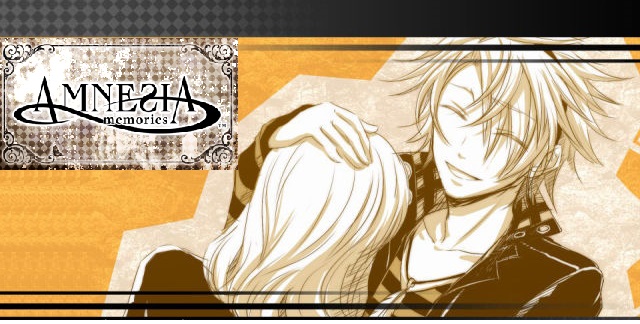 When I first heard about Amnesia: Memories (Not to be confused with Amnesia: The Dark Descent or Amnesia: A Machine for Pigs -ed.) being translated, all anyone was talking about was "Oh, that's the game where you get locked in a cage." That seemed like a sort of strange feature to the flaunting, but I had to admit, it made me interested. Now that I've experienced it, though, I found it kind of frustrating, really creepy, and sort of gross, depending on the ending you get.
Diamond World is the route in question, and it focuses on Toma, your "big brother." In some worlds, this is due to marriages and divorces, and in some it's just that he was older than you and you grew up with him, but Toma has decided he's going to be your big brother, no matter what you think, and that's that. In other routes he's always giving advice and showing concern for you. He seems like a sweetheart. Diamond World has other things to say about him.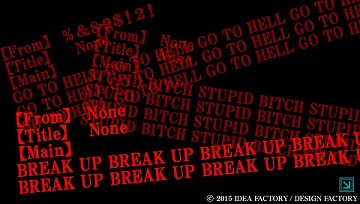 The plot of Diamond World starts with you being bullied by some mysterious group you don't recognize (because of the amnesia, of course). They're after you, sending you abusive e-mails, filling your mailbox with disgusting things, sneaking up on you and cutting off chunks of your hair, and so on. It's frustrating, and it happens every time you head outside. Toma can't take this happening to you, and feels it's his job, as big brother, to protect you from all this. He brings you to his house, to keep you safe.
I will give the route this: I felt like the degeneration of Toma is fairly understandable. It's messed up, sure, but you see how he got to that point. The more you leave his house, the more you get hurt, and as he tries to keep you inside and you sneak out again and again, in an attempt to restore your lost memories, well, more drastic actions are needed until we finally get to him locking you in a cage, only getting you out to shower and eat in handcuffs.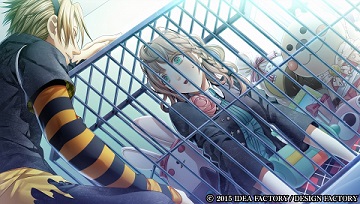 It makes for an interesting and unsettling story, but the thing that's truly creepy about the whole thing is that you're supposed to be romancing this guy, because it's that kind of game. To get the "good" ending, even as he's locking you up in a dog kennel, you have to keep telling him it's okay, I understand, I love you, you're working so hard to protect me, and so on. Most importantly, you have to obey his commands, or at least feel bad whenever you don't. The good ending has you basically completely forgiving him for imprisoning you against your will for several weeks, as if it's nothing. The ending is called "You have bad taste in men." Appropriate.
Watching this ending play out really frustrated me, because it literally does nothing to lessen the impact of what Toma does. In the "normal" ending, he stops the bullying, but runs away as soon as you get free, because he's done something awful to you and realizes it, and you never see him again. That's the most sensible, positive thing that could come from this. That felt realistic. But in the "good" ending, there's seriously no attempt to redeem Toma. You kiss. He apologizes, but in a "but you understand why I had to right?" sort of way. He's just an awful person. And you're going to spend the rest of your life with him, I guess.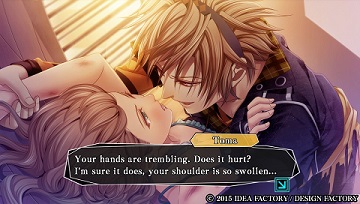 I feel like the game's attempt at redemption of how awful this all feels just makes things worse as well. Your entire imprisonment is incredibly sexualized. He holds you tightly in bed, pre-apologizing for what he's about to do, an intimacy you don't get with him otherwise. You're shown images of Toma looking into the cage, longingly. He gives you presents. At one point, you have the dialog option to say "Am I your doll, Toma?" One of the "bad" endings involves you chained up in a maid outfit. The game can't seem to decide between "this is messed up" and "it's okay because it's hot, right?"
As someone knowledgeable about these sorts of fetish stories, it honestly could have been sexy without too much effort or change in the storytelling. The entire premise of the game is you've lost your memories: what if the love cage situation had been pre-negotiated, but you'd forgotten? Then the sex appeal could have been engaging. Then Toma really could have been redeemed by apologizing, because he thought there was consent there, and didn't know you had forgotten, perhaps. It really could have worked that way! But that would require the game to suggest you have a sexual relationship with Toma, and the game is shockingly shy about the idea that you'd sleep with someone you've been dating awhile, in this or any of the routes.
All the other relationships in the game are shitty relationships, but by the end, especially with the good endings, things are resolved, misunderstandings are now understood, and you feel kind of okay with the idea of dating these guys. Toma never felt that way to me. I liked him before this route, and then afterwards I was fairly terrified with him, and didn't want to choose options that would leave me alone with him for conversations. And yet, according to an article I read recently, Toma is one of the more popular guys in this game. I don't get it. But maybe I'm just more of a stickler for consent in my fantasies than others are. Maybe I'm just less into the idea of a guy protecting me as being a romantic one. Or maybe I'm just missing something. Either way, the route successfully plays into "obsessive guy" sort of fears that women often have to deal with. It sort of steals the show. I hate Toma, but I'm certainly not going to forget his story anytime soon.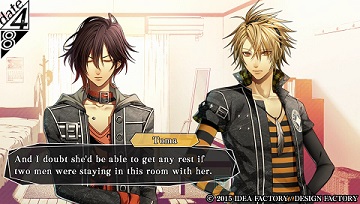 Information
Released: August 25, 2015
System: Vita
Developer: Idea Factory
Publisher: Ideal Factory International

Alexis Long writes cool cool stories that you should read! Check out her stuff at poetfox.com!