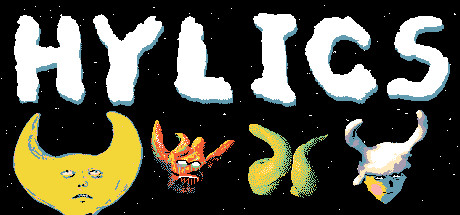 Hylics is a game where your face melts a lot.
Well, okay, it's not your face. It's the face of Wayne. And it melts a lot because you die a lot. It's a deadly sort of game. At least in the beginning, where I managed to completely miss what I was supposed to be doing and wander, for quite a while, being killed. But when I did, though, it wasn't a big deal. The afterlife isn't so bad. You just head back whenever you're ready. There's even a special balcony you can go to if you've died enough. It's a little club, just for people like you. Who die.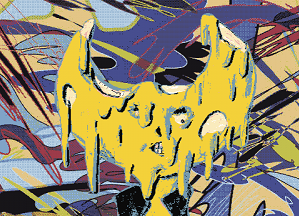 What's really important about Hylics, though, is that it's a game where your strength comes from your leisure and relaxation. There is no experience points or anything in Hylics. You don't naturally level up from winning battles. You increase your strength by relaxing. It's pretty nice in that way.
For example, Wayne's House is the first place you ever go in the game. Surrounding his house, outside and in, are pets and friends. To the left is a garden of weird green shapes. You can pick these green shapes to get vegetables, a healing item. These respawn every time you return home, which means you always have a source of healing items, thanks to Wayne's gardening. You can eventually find food for each of the weird animals walking around your house, and each one gives you unique, useful gear for hanging out with them and feeding them. Upstairs in Wayne's house is a bathtub, where you can take a relaxing bath to heal before moving on. Most of the healing in the game is from bathtubs in this same way.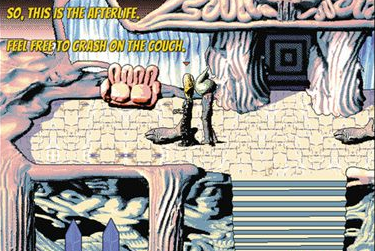 The clearest example of all this, though, is through the two major "collectables" in the game, and the main ways in which you level up. The first real "quest" you fall into is helping your new party member, Dedusmuln, find what is referred to as an "ancient artifact." It turns out it is a paper cup, which you can use to go to a water cooler, drink some water, and relax with your friends. This is the only way to upgrade your Will stat, which is essentially MP, except if you lose it all, you die. Most of the combat in the game revolves around the use of skills and spells, so more Will is essential. What's more, once the water cooler is emptied, it's gone. Party members you get later are out of luck: they didn't share that quality time, and so they don't get the benefits of it. This kind of sucks, but makes sense. They don't know Wayne and his friends as well, so why would they be as determined to succeed with them? It's only through spending that quality time that that will to win exists.
However, this isn't the only shared experience in the game. Most of the spells and techniques, besides a unique one for each character, are learned through televisions. These televisions are so important, you even find one locked in a vault, guarded by a difficult boss. There's money in there too, but it's the television that's the real prize, because with it, you get to watch a show. Again, if party members aren't there, they won't learn these skills, but unlike the water coolers, you can bring party members back and have them watch the shows too, in the same way you might pressure a good friend to play a game or watch a series you really love, because you think they'll like it too. A lot of my gameplay was backtracking to make sure everyone had all the spells. This almost certainly wasn't necessary, but it was kind of unfortunate when one was missing, even if it was a spell I basically never used, so I'd always go back, and get them all again. There is even a TV in the afterlife, so sure enough, I intentionally killed my team so that everyone could watch that show. I wanted my party to be unified.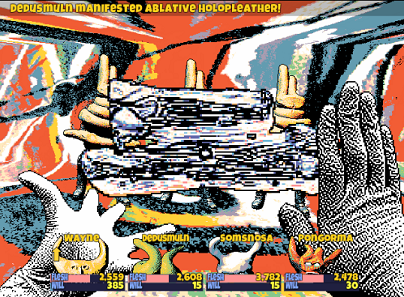 There's a story to Hylics somewhere. It involves some sort of dictator on the moon, and someone stranded on an island, and some sort of bureaucracy, I think, and probably death. There are some cultists, and some gods, and a lot of weird jelly skulls. You revive party members by giving them a microwaved burrito (otherwise the frozen burrito is a projectile weapon). I'm not sure how all that stuff comes together into a story. Hylics, the title, refers to a concept of the flesh of a person, the part of which our spirits attempt to escape, so perhaps it has something to do with that? Or perhaps it's just a convenient reason to name HP "Flesh" in the game?
I honestly don't know the answer, but I don't think anything storywise in the game really matters that much. The game is very relaxing and very chill. It's something you just let wash over you, and then it's over, and you smile. As the description for the game says, it truly is a "recreational program," and by focusing on relaxation, you'll be successful at it. I think that's kind of nice.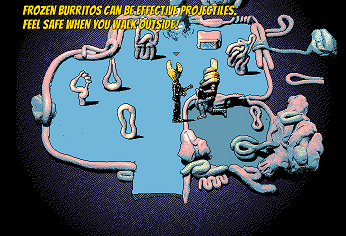 Information
Released: August 7, 2015
System: PC
Developer: Mason Lindroth

Alexis Long writes cool cool stories that you should read! Check out her stuff at poetfox.com!